From pregnancy to childbirth(妊娠から出産まで)
Last updated date:2022/9/13
Issuance of Mother and Child Health Handbooks
The Mother and Child Health Handbook is an important record of your pregnancy's progression, your child's development after birth, etc. Once you have received a diagnosis of pregnancy at a medical institution, please submit a notification of pregnancy at the health and welfare center of the ward in which you live as soon as possible. You will then be issued with a Mother and Child Health Handbook. The Mother and Child Health Handbook are also available in foreign languages (English, Chinese, Korean, Spanish, Portuguese, and Vietnamese).
In addition, you will also be issued with a set of tickets for health checkups, such as maternity checkups and infant health checkups at medical institutions. These tickets cover the cost of checkups in part or in full, so please make sure to use them when undergoing checkups.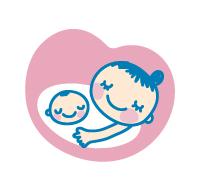 The early stage of pregnancy is an important time for both the baby's development and the mother's health.
The Maternity Mark is a badge expecting mothers can wear when riding on trains, buses, etc. By wearing this badge, you can let others know that you are pregnant.
Where can I receive a Maternity Mark badge?
You can receive a Maternity Mark badge together with a Mother and Child Health Handbook at the health and welfare center of the ward in which you live. You can also receive one at some train stations.
In these classes, first-time expecting parents learn basic knowledge covering pregnancy, childbirth and child rearing. Fellow class members are all expecting mothers and fathers. These classes are a great place to meet people living in the same area and make new friends.
Dispatch of helpers before and after childbirth
Under this system, if you are pregnant or have an infant up to the age of 5 months and are having a hard time because you are sick or have nobody else to help out with housework or childcare, you can apply to have a helper dispatched from a provider commissioned by Yokohama City to assist with housework or childcare.
Available hours, number of times and cost
'- This service is available from 9 a.m. to 5 p.m. Monday to Friday. Each session lasts up to 2 hours, and you can book 2 sessions in a day.
- You can use this service for up to 20 sessions, or 40 sessions in the case of children born of multiple birth.
- Each session costs 1,500 yen. However, you may be eligible for a reduction or exemption from payment of this charge depending on your circumstances. For more details, please ask at the time of application.
Please apply at the counter of the Children and Families Support Division of the ward office where you live.
Consultations about unplanned pregnancies
Ninshin SOS Yokohama is a service which provides consultations via telephone or email for those with concerns about an unplanned pregnancy, childbirth or raising children. Your consultation will be taken by a qualified nurse or other professional. Consultations are free of charge.
Consultations about sterility and infertility
This service allows women with physical or mental health concerns to consult over the phone or in person with a midwife, public health nurse or other professional from ward health and welfare centers. You need to book an appointment for consultations in person.
You can also receive a free consultation from a specialist doctor or nurse from a hospital concerning specialist matters such as screening and treatment for sterility and infertility, etc. You need to book an appointment for consultations. Please visit this website (in Japanese) for more details and information on how to book an appointment.
Assistance with specific infertility treatment costs
This scheme provides assistance to couples in Yokohama City who are unable to conceive a child. The scheme covers the cost of medical treatment not covered by health insurance in part or in whole when undertaking costly specified infertility treatment, such as in vitro fertilization or micro-fertilization.
When applying, please be aware that restrictions apply in terms of income, application period, etc. For more details, please contact the Medical Treatment Assistance Representative, Parent and Child Public Health Section, Children and Families Division, Children and Youth Bureau, City of Yokohama.
Where to inquire
Content
Contact details
About this page in general
Regional Childcare Support Division, Child Welfare and Public Health Department, Children and Youth Bureau
Tel: 045-671-2455
Reception hours: Weekdays 8:45 a.m. - 5 p.m.
Fax: 045-550-3946
Email: kd-chikoshien@city.yokohama.jp
About consultations on unplanned pregnancies
Regional Childcare Support Division, Child Welfare and Public Health Department, Children and Youth Bureau
Telephone consultations
Telephone number: 045-662-5524
Reception hours: 10 a.m. - 10 p.m.
Email consultations
  https://www.city.yokohama.lg.jp/kurashi/kosodate-kyoiku/oyakokenko/ninshin/ninshinsos.html
About consultations on sterility and infertility
About applications for assistance with specific infertility treatment costs
Regional Childcare Support Division, Child Welfare and Public Health Department, Children and Youth Bureau
Tel: 045-671-3874
Reception hours: Weekdays, 8:45 a.m. - 5 p.m.
Fax: 045-550-3946
Email: kd-chikoshien@city.yokohama.jp