Osanbashi PIER
Last updated date:2018/9/28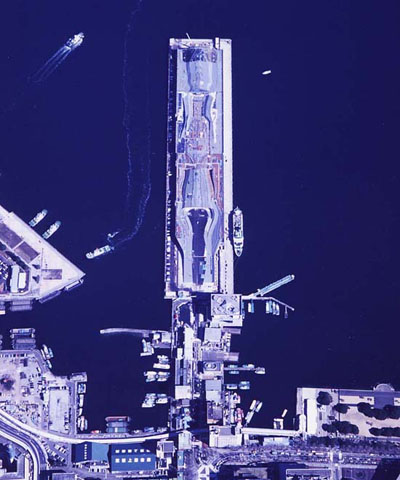 (PDF:17KB)
---
Osanbashi Pier is the oldest pier at the Port of Yokohama, constructed between 1889 and 1896 as a full-scale, modern port and harbor facility. Due to the aging of the pier, the pier was re-constructed between 1988 and 2002.
In order to emphasize on the ships, the terminal's height was kept as low as possible. The rooftop draws on ocean waves as its motif and has a unique, loosely bi-directional curved shape. The structure has no pillars or beams, creating a vast open space inside the building. The terminal can accommodate four 30,000-ton class passenger vessels or two 70,000-ton class ones at the same time.
The first floor of the terminal is a parking area for up to 400 passengers cars; on the second floor, there is a lobby, CIQ (Customs, Immigration and Quarantine) facility, and a multi-purpose hall at the very end. The rooftop serves as a square open to the public 24 hours a day, where visitors can enjoy close views of the calling cruise ships.
This new passenger terminal will not only meet the demands of the cruise industry in the 21st century, it will also become a new landmark of Yokohama that draws the citizens and the port closer together.
Access
weekdays
municipal bus #26
weekends, holidays
100 yen bus in operation, municipal bus #26
Area
7.7ha
Jump to <<
>> Click Here for the Guide Map.(PDF:17KB)
(1)Public Passenger Vessel Berths
Berth
Length(m)
Apron Width
(m)
Depth(m)
Moorning Capacity
(D/W)
A
225
20.0
12.0
30,000
B
225
20.0
12.0
30,000
C
350
20.0
11.0
30,000
D
100
20.0
10.0
30,000
TOTAL
900
-
-
-
(2)Other facilities

| | | |
| --- | --- | --- |
| Landing Platforms | 3 | Total Length 327m, Width 5-10m, Depth2.0-2.5m |
| Floating Pier for Mooring Small Vessels | 2berths(E,F) | Length 50m * Width 8m * Depth 5.0m |
Yokohama International Passenger Terminal
Dimensions/
Construction
Two stories above ground, and one basement level
Maximum height: 15m, Length: 430m, Width: 70m
Steel-frame Construction
Floor Area
total
approx. 44,000m2
breakdown
basement
approx. 2,000m2
1st Floor
approx. 20,000m2
2nd Floor
approx. 22,000m2
Floor Layout
basement
machine room
1st Floor
Parking area
business hour
Sunday-Thrursday: 7:30-23:00
Friday-Saturday: 7:30-25:00
2nd Floor
departure/arrival lobby
information center
waiting lobby
ticketing booth
shops & cafe
CIQ (Customs, Immigration, Quarantine) facilities
Osanbashi Hall
(scheduled to open in December 2002)
hall
restaurant
Cruise Deck (business hours: 9:00-21:30)
Roof Level
Public Square, Observation Decks
Construction began
7/1/1993
Building Structure
5-storied, Steel Structure
Site Area
2,630.0m2
Building Area
1,981.5m2
Floor Area
4,790.4m2
1st Floor
1) Waiting Lobby
2) Information Center (Port of Yokohama Promotion Association)
3) Ticketing Booth(for sightseeing boats)
3rd Floor
Port & Harbor Bureau Port Maintenance & Repair Works Office
5th Floor
1) Port & Harbor Bureau Osanbashi Pier Office
2) Port & Harbor Bureau Port Maintenance & Repair Works Office
3) Port & Harbor Bureau Port Boat Office
Opening Hours
9am - 9pm (may differ around New Year), open throughout the year