Daikoku Pier
Last updated date:2021/5/14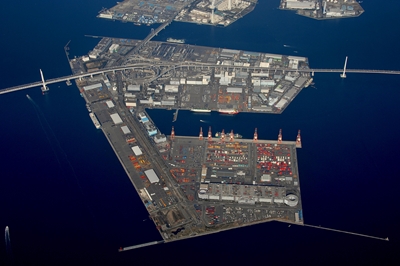 Daikoku Pier
---
Daikoku Pier is the first full-scale manmade island-type pier at the Port of Yokohama, which was reclaimed and constructed between 1971 and 1990 in response to the growth in ocean-borne cargo and containerization. In total, 25 berths (a total berth length of 5,250m), including container berths and liner berths are developed on the pier.
Yokohama Cargo Center (Y-CC), which was designated as the first comprehensive bonded zone (FAZ) in eastern Japan and opened in 1996, is one of Japan's largest logistics facilities and it plays a great role in strengthening logistics functions of the Port of Yokohama and revitalizing port economies. National Route 357 at the Yokohama Bay Bridge section (between Honmoku Pier and Daikoku Pier) was opened in 2004, which dramatically improved the access to Honmoku Pier and Minami Honmoku Pier. Following this, the pier boasts a highly convenient logistics hub with reinforced road network to the Port's hinterland along with the Metropolitan Expressway whose interchange is located on the pier.
Currently Daikoku Pier has being carried out functional changes from container berths to car berths for RoRo ships in order to handle finished automobiles and tracks, which are major export items of the Port of Yokohama, and large construction equipment. In 2022, P3, P4 and T3 -T8 terminals will be completed and it will allow five large PCCs to simultaneously dock at one of Japan's longest consecutive berths with a length of 1,400m. This change allows 11pccs to dock in total.
On the other hand, the Daikoku Pier is also available to accommodate a large passenger ship which cannot pass under Yokohama Bay Bridge.
In the pier, including the passenger terminal, Daikoku Pier Central Green Space with a baseball ground, a multipurpose sports ground and four tennis courts are developed as welfare facilities for port workers along with Daikoku Fishing Pier.
<Access>
Daikoku Futo Junction on Coastline Highway
<Area>
322.0ha
Outline of Facilities
Pier
Berth
Berth Length(m)
Depth(m)
Berth Usage
Daikoku Pier
C-1
300
12
Line Terminal(Yokohama Port Corporation)
Daikoku Pier
C-2
300
13
Line Terminal(Yokohama Port Corporation)
Daikoku Pier
C-3
350
15

Container Terminal(Yokohama - Kawasaki International Port Corporation)
Provisionally in use for the foreign trade tramper terminal

Daikoku Pier
C-4
350
15
Container Terminal(Yokohama - Kawasaki International Port Corporation)
Daikoku Pier
L-1~8
each 200
10
Line Terminal(Yokohama Port Corporation)

Daikoku Pier

P-1・2
each 130
7.5
Coastal Vessels Berth
Daikoku Pier
P-3
130
12

Multipurpose Berth
(Combined with a cruise ship)

Daikoku Pier
P-4
160
12

Multipurpose Berth
(Combined with a cruise ship)

Daikoku Pier

T-1・2

each 240
12
Multipurpose Berth
Daikoku Pier
T-3~8
each 185
10~11

Multipurpose Berth
(T3-T6 Combined with a cruise ship)

Daikoku Pier
T-9
240
12
Container Terminal(Yokohama - Kawasaki International Port Corporation)
Jump to