For passengers with strollers
Last updated date:2022/10/12
You can travel on city buses without having to collapse your stroller.
Strollers used to have to be secured by the driver. This requirement was changed on November 1, 2010, and passengers are now allowed to secure their strollers themselves.
---
When boarding with a child still seated in the stroller
First, please inform the driver that you will be boarding without collapsing your stroller.
※If the bus is a type that cannot be boarded from the front, please use the rear door.
Once aboard, put your stroller in the securement area indicated.
※For safety, position your stroller facing opposite to the direction of travel.
Secure the stroller yourself using the belt attached to the passenger seat.
※If you cannot do this, please ask the driver for assistance.
※For details on how to use the belt, please click here .(PDF:769KB)
(画像:139KB)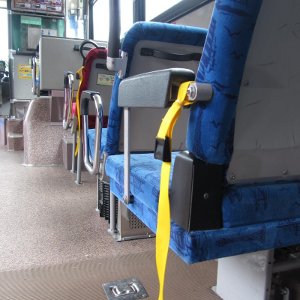 (画像:138KB)
---
Precautions when travelling with an uncollapsed stroller
Make sure your child is securely harnessed in the stroller and the brake is on.
For safety, always secure the stroller with the belt provided and keep your hand on the stroller while aboard.
※To avoid accidents, keep a close eye on your stroller and child.
Follow the driver's instructions to avoid hazards.
Strollers sometimes have to be collapsed when using city buses.
We thank you for your cooperation when this is necessary.
Strollers may have to be collapsed in the following circumstances:
If the bus is crowded
If your stroller is a two seater, oversized, or cannot be secured with the belt provided
If a wheelchair user is aboard
If there are three or more passengers with strollers aboard (There is usually only space to secure two strollers at the same time, and some buses have space for only one.)
※If you have to collapse your stroller, the driver will ask for other passengers' cooperation to enable you to sit wherever possible.
Please use the bus safely in accordance with the rules.
Please do not hesitate to ask if you have any questions.
Thank you for your understanding and cooperation.

---