Next-Generation Fuel
Last updated date:2022/10/1
The City of Yokohama conclude MoU for Acceptance of Ammonia-Fueled Tugboat
The City of Yokohama is pursuing decarbonization at its port as the city works to realize a Carbon Neutral Port.
NYK Line, IHI Power Systems Co., Ltd., and Nippon Kaiji Kyokai (ClassNK) (i.e., "the Parties") develop the Ammonia-Fueled Tugboat which reduce environmental load and aim to operate as demonstration around 2024.
The City of Yokohama has signed a memorandum of understanding (MoU) with the Parties for the acceptance of an ammonia-fueled tugboat (A-Tug) at the port of Yokohama.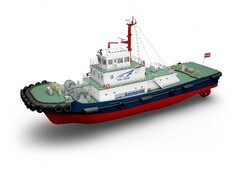 source:NYK Line
■ Description of MoU
The MoU includes the following:
(1) Realization of smooth acceptance of A-Tug at the port of Yokohama
(2) Supply of fuel to A-Tug at the port of Yokohama
(3) PR to citizens to affect efforts to reduce environmental load
(4) Other matters related to the business of the parties
Press Release(PDF:238KB)
City of Yokohama intends to build LNG bunkering hub in the Port of Yokohama in cooperating with the national government and private sectors. There are many advantages as a LNG bunkering hub in the Port of Yokohama as follows; (1) There are many existing LNG bases located next to the port. (2) The operation of a LNG-fuelled tugboat "Sakigake" is started in 2015, so know-how of LNG bunkering is accumulated. (3) The Port of Yokohama is located on the Pacific side and it serves as the first or last bunkering base in the Asian side of the Trance Pacific route.
---

Yokohama Port started the incentive for the ship in consideration for environment in April, 2017. Entrance fee 15% of certification ships of two incentive systems (Environmental Ship Index and Green Award) reduce taxes. As for joining both systems, Yokohama Port is the first in Japan.