URBAN DESIGN of Yokohama(横浜の都市デザイン)
Last updated date:2019/3/4
Our urban design principles for Yokohama can be summed up in the following goal: "To realize a city with aesthetics, uniqueness, and humanity."
The spark behind Yokohama's urban design is very social in nature―including such issues as wartime damage to the city, delayed post-war recovery due to property/asset seizure, city overgrowth during the economic bubble, and population increase. Yokohama's municipal government appointed a UD head immediately after delving into the realm of urban design. Before long a dedicated branch, also called the "UD Division," was established―marking YUDA's official formation. We are constantly in search of the Yokohama's perfect form in relation to the current times and social landscape. It is through this process that our aforementioned goal of realizing a city with aesthetics, uniqueness, and humanity came into being.The presence of such a specialized branch has allowed the government to initiate the planning of public facilities, make landscape adjustments, instate systems, rules, and other city-building mechanisms, etc.―building a better cityscape that is characteristically "Yokohama."
We will be introducing some educational literature compiled by YUDA, aimed at those with an interest in learning about past UD initiatives in Yokohama, the resulting scenery, and Yokohama UD in general.
Leaflet: Urban Design Yokohama (Created in 2014)
In this leaflet, we take a look at various iconic Yokohama spots, programs, and other special features that make the city such a fun place. You have seen the exterior―now learn more about the interior.
*only in japanese, sorry.


URBAN DESIGN YOKOHAMA(Leaflet):(PDF:1,365KB)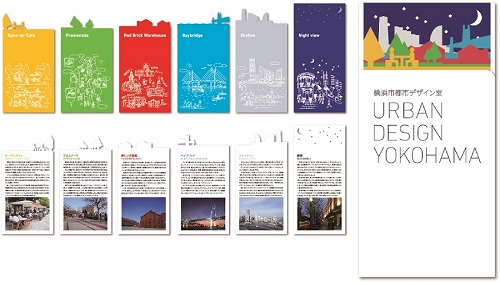 Pamphlet: A Digest of Urban Design in Yokohama (Created in 2012)
An informative compilation on Yokohama UD in digest format. Past UD examples are explained in greater detail than the earlier introduced leaflet.

A Digest of URBAN DESIGN in Yokohama english version(pamphlet):A4 18p 4color(PDF:12,673KB)
URBAN DESIGN VISION YOKOHAMA(Created in 2015)
This vision has been compiled in the hopes of becoming a useful tool for individuals trying to improve their lives―an instrument for sharing knowledge and experience gained from past urban design programs. May the fruit of our labor lead our dear city to greater prosperity. Such is our hope for this book―our vision―which contains the crucial essence of Yokohama urban design.


URBAN DESIGN VISION YOKOHAMA:A4 99P 4color(PDF:4,903KB)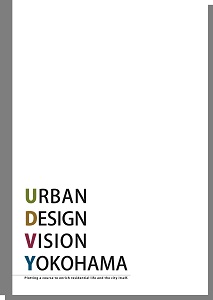 ★LINKS
Urban design division top page (written in japanese)