Cruise
Last updated date:2018/10/1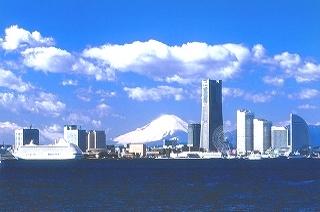 The Port of Yokohama was opened in 1859 as Japan's first modern international trade port and has now become the No.1 cruise port in Japan.
The port, conveniently located within Tokyo Bay and surrounded by a rich assortment of tourist attractions, both modern and cultural, plays a vital role as the gateway port for metropolitan Tokyo as well as Eastern and Northern Japan.
(The Port of Yokohama conveniently lies 11 sea miles closer to the Pacific Ocean than the Port of Tokyo.)
With the completion of our state-of-the-art International Passenger Terminal in 2002, which also has easy access to expressways and airports, we are now committed to welcoming and capable of accommodating almost all cruise ships.
And we can meet their demands efficiently and warmheartedly.
This unique and innovative terminal is able to meet the needs of the cruise industry in the 21st century while at the same time drawing the citizenry and the port closer together. It is a proud heritage for future generations, as well as a highly efficient and functional facility for visiting cruise ships.
The hospitable services we provide through it, such as our welcome and farewell ceremonies that are versatile and flexible, are second to none in Japan.
Terminal webpage(外部サイト) Web camera(外部サイト)
Name
Yokohama International Passenger Terminal
Location
1-1-4 Kaigandori, Naka-ku, Yokohama, Japan
Nearest Station (Time Req.)
Minatomirai Subway Line , Nihon-oudouri Station (approx. 5-minute walk)
Access
Station
Tokyo Station: Approx. 40 minutes by bus or train
Airport
Haneda Airport: Approx. 30 minutes by bus
Narita Airport: Approx. 90 minutes by bus
Shinkansen
Approx. 25 to JR Shin-Yokohama Station by bus
Facilities
Facility Overview
Basement:
Machine room
1st Floor:
Parking (400 standard-sized cars or 28 buses)
2nd Floor:
Passenger Terminal
Traffic Plaza
Lobby (Information desk, ticketing counters, waiting lounges, cafe, shops)
--- Approx. 6,500m2
CIQ Plaza (Customs, Immigration, Quarantine)
--- Approx. 2,000m2
Cruise decks
Osanbashi Hall (Hall, restaurant)
--- Approx. 2,000m2 (Hall)
Rooftop:
Rooftop Plaza, Visitor's Decks, Outdoor Event Plaza
Length
Approx. 430m
Height
Approx. 15m at highest point
Width
Approx. 70m
Total Floor Space
Approx. 44,000m2
Capacity
Length
Berths A & B: 450m, Berths C & D: 450m
Water Depth
Berths A & B: 12m, Berths C & D: 10-11m
Apron Width
Berths A & B: 20m, Berths C & D: 20m
Boarding Bridges
4 (mobile)
Tidal Range
2m
Notices
Yokohama Bay Bridge
To come to the International Passenger Terminal vessels must pass under the bridge (56m air draft at spring high tide).
Bay Pilot
The Pilotage Law requires compulsory bay pilot for vessels with 10,000 gross tonnage or more.
Harbor Pilot
The Pilotage Law requires compulsory harbor pilot for vessels with 3,000 gross tonnage or more.
Tugboat
Pilot has the authority to determine how many tugboats are necessary.
Safety and security measures have always been our top priority.
ISPS code assures completion on security assessment of the terminal for passengers and ships. Security guards are stationed at the gate leading to the berths 24 hours a day.
In addition to X-ray systems, metal detectors, fences are set to separate boarding passengers and crews from other visitors.